Biocomputing
(Bioinformatics & Computational Biology)
The IGBB has a talented team of computer scientists and programmers who support and advance the institute's biomolecular research. These scientists have expertise in data analysis, algorithm and script development, high performance computing, database development/management, and computer security. In addition to working on IGBB projects, the IGBB's biocomputing staff can help MS State principal investigators and IGBB collaborators manipulate and extract biologically meaningful information from large genomics/proteomics datasets. Such analyses can be performed through a Proposal Partnership, a Research Agreement, or the Service Center. Of particular note, the IGBB biocomputing team is experienced in...
De novo and reference sequence-facilitated assembly and annotation of entire prokaryotic and eukaryotic genomes;
Comparative genome analyses;
Analysis of transcriptome and RNA-Seq data;
Alignment of RNA-Seq data with genome(s) or transcriptome sequences;
Comparison of gene expression differences between tissues/stages/organisms;
Protein identification;
Discovery and characterization of post-translational modifications;
Quantitative proteomics;
Qualitative and quantitative comparison of the protein complements of different tissues/stages/organisms;
Integration of proteomic and nucleic acids data (e.g., proteogenomic mapping);
Functional annotation of genes and gene products using Gene Ontology (GO) standards and procedures.
To discuss the possibility of having the IGBB work in collaboration with you to analyze your complex biomolecular datasets, please submit a ticket through the MyIGBB HelpDesk. An IGBB biocomputing consultant will respond to your query as quickly as possible (usually within 24 hours).
ALSO SEE: Genomics (including Transcriptomics) | Proteomics & Metabolomics
---
---
NOTE:
PIs are asked to consider whether the participation of an IGBB employee in a project merits that employee's inclusion as a co-author on a resulting manuscript(s). The decision ultimately lies with the PI. However, the IGBB encourages IGBB staff and faculty involved in
Proposal Partnerships
and
Research Agreements
to discuss/negotiate co-authorship with PIs before starting work on a project.
Dr. Keun-Seok
Seo
Associate Professor
Comparative Biomedical Sciences
IGBB Affiliate
email
(662) 325-1419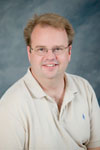 Dr. Mark
Welch
Professor
Biological Sciences
IGBB Affiliate
email
(662) 325-7564
website

Topic:
Cotton improvement

IGBB Scientists:
Daniel Peterson
Tony Arick
Chuan-Yu Hsu

Funding:
USDA

The IGBB is supported, in part, by the following units: